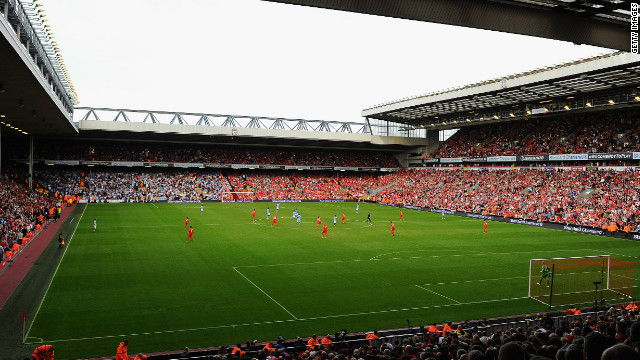 I have been a Liverpool fan for pretty much as long as i can remember, i'm not going to go into any detail about my origin story, or how i came to be a Liverpool supporter… the "how" i became a fan is actually pretty irrelevant now, what is important is that i've been part of a pretty special family for more than 10 years now.
Being a Liverpool fan has meant that i've made friends with some pretty amazing people, and that no matter how i feel, i know i have a support system. We celebrate each other's successes, and commiserate each other's losses, all because we're part of the same Liverpool family. I've found that over the years "You'll Never Walk Alone" is more than just a motto, it has been proven to me time and time again.
I had always wanted to see my team play live, a dream i think all Barclays Premier League football fans share. When I knew i would be in the country during football season, i pretty much planned my entire holiday around getting to Anfield to see Liverpool play. New Years Eve in Edinburgh? The sights and sounds of London? Exploring the Yorkshire Dales? WHO CARES! All i wanted was a seat at Anfield and a scarf to hold up while singing "You'll Never Walk Alone" at the top of my lungs.
Thanks to a particularly loving boyfriend, who worked tirelessly at getting us great tickets, i was able to check something pretty important off of my bucket list! Not only did i get to see Liverpool play, but i got to see them WIN! It was a pretty epic game that saw Liverpool beat Sunderland 3 – 0, with a brace scored by Suarez who beautifully set up Raheem Sterling for the final goal. The boys celebrated just a few meters in front of me, and i could even hear ol' Stevie G shouting out and congratulating Sterling.
It's 90min that i won't ever forget, as long as i live. There are literally no words to describe the emotions when the entire stadium bursts into "You'll Never Walk Alone"… i would be lying if i said that i didn't cry a little. Tears of happiness, obviously!
/// COMPETITION TIME \\\
I have got 1 x guys and 1 x girls Liverpool Winter PJ set to give away. It's super easy to win, all you have to do is tweet the following:
@Absa and @StephanieBe – keep me warm this Winter with a set of Liverpool PJs! #MyFirstGame
If, like me, you love your football and would like to go and watch a Barclays Premier League match LIVE… then watch this VIDEO to see how to make it happen:
He might be an Everton fan (ergh) but football is football at the end of the day, and i would want any football fan to get the chance to see their team play live at least once in their lifetime!
 Go to Twitter and share YOUR story, like I have, and make sure to tag @Absa and use the hashtag: #MyFirstGame
Click the button below to join in the conversation: